Description

FREE SHIPPING ON ALL PRODUCTS

All-in-one skin care product for the outdoors

Nixall® First Aid is simple and easy to use: just spray it on!
Recognized by outdoorsmen and moms as the "must-have product" for skin management, Nixall® First Aid Solution is for all minor mishaps that happen at or away from home. So carry Nixall® First Aid with you wherever you go!
Safe for minor wounds and irritations caused by:
Cuts and scratches
Insect bites/stings
Sunburns
Poisoned plant sap irritations
Blisters
Rashes & scrapes
Dry skin
Because Nixall® First Aid helps to manage the skin, frequent and regular applications will help return your skin back to its normal healthy state.
18-month shelf life

"This is our 3rd order – my wife swears by their First Aid Solution. This is our go-to solution for any cut or scrape. We have used it on our pets [called Nixall 1st] and it worked great."

~William M.

"I have used this for several years now. It's the only product that takes the itch out of the oak leaf itch mites bite. Very helpful for all bites actually…have it on-hand all summer."

~Diana B.

"My purchase was shipped and received really fast. I have used the spray for mosquito bites before they get irritated and very large. When I missed one that became a 50-cent piece size, I was amazed how quickly it stopped the process in its tracks."

~Brenda M.

"I used your product on my horse years ago. My horse had a massive infection from an injury. He was impaled by a metal fence post deep into his shoulder. I feared, due to the severity of the wound, it could have likely been fatal. I was amazed that his wound improved immediately and healed completely using your product. Did not even leave a scar.

Years have passed since then & I moved away from the local store that sold your products. I had forgotten about your products as I didn't have an urgent need for them.

I am glad to have remembered your products & looked up, ordered online, & had them delivered (The delivery was very quick.).

Currently, I use the deodorizing spray for our guinea pig's cage. It is nothing short of life-changing. It has made what was a constant struggle to keep the cage clean, smell-free, and livable into a breeze. The deodorizer instantly neutralizes the odor in his cage. I love that it safe for him & us! It keeps the air fresh & clean, which makes living with him much more enjoyable than what was a constant hassle & annoying odor.

I am also using the first aid solution on 2 wart-like growths, skin tags on my dog. They are showing impressive, visible signs of shrinking. I didn't know if this would work, I just thought it was worth a try instead of having them froze off. I am very pleasantly surprised that it appears to be working.

Your products are amazing. More people would benefit from knowing about them & using them!"

~Christine K.

"We bought this product to calm the itching from oak mites and happily can say it was a godsend."

~Debra H.

"My one and only experience with Nixall First Aid Solution was from a colleague. I had gotten a bug bite on my neck, that left it very red and itchy. I sprayed this product on and immediately felt relief. I used it a couple more times after that and it took care of the problem. I then ordered a bottle for myself to use in the future. Great stuff!"

~Julianne S.

"When picking up my toaster yesterday, my fingers slipped into it and I burned 3 fingers on the heating elements. I ran my hand under cold water, but the pain wouldn't stop, and bubbles were already forming on my fingers. I grabbed the Nixall spray for cuts, burns, etc, and sprayed my hand & fingers. The pain stopped immediately. So I sprayed my hand a few times throughout the day and once before I retired for the night. Well, I have no redness, no bubbles, and also no pain. In fact, you can't even tell I burned my hand. Thank you for an incredible product that works!"

~Susan D.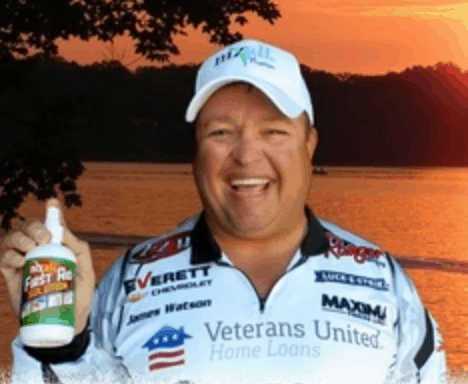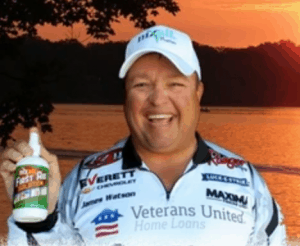 "Nixall First Aid Solution is now a must in my daily routine. A pro fisherman's skin takes a beating every day, especially our hands getting torn up from handling fish.  I spray my hands and face several times daily with this eco-friendly, non-toxic product.  Just as important, it helps to eliminate most odors, which is so important in fishing."
~James Watson,  Touring professional angler
Follow James on the Walmart FLW Tour and Major League Fishing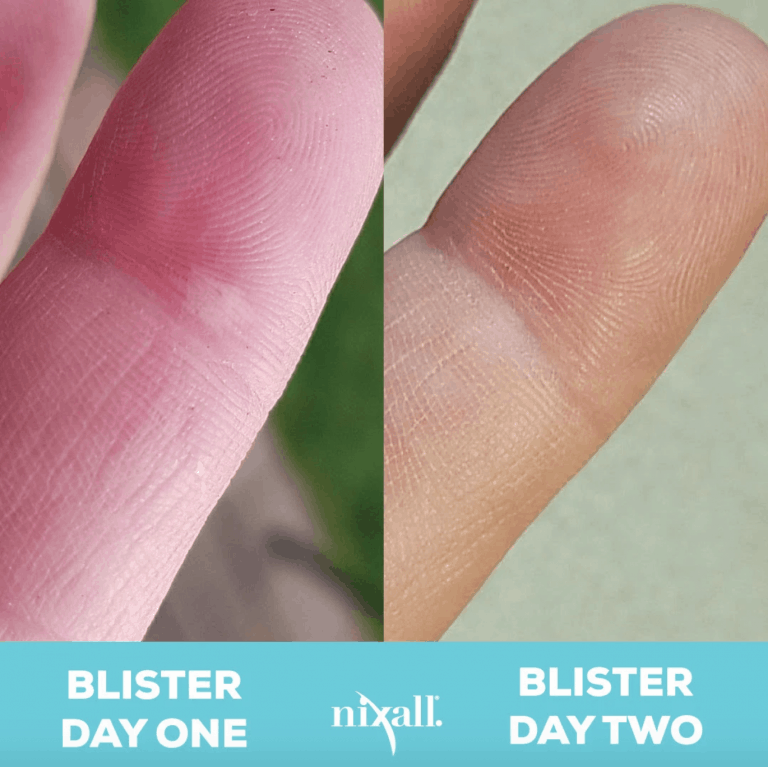 "So I had the typical a-million-things-going-on-at once Sunday. I was grilling and had a grill basket on the grill with shrimp inside. I had other items on the grill next to the basket too.
So, I am talking to Brianna ( my daughter ), phone in left hand reading messages, trying to grill…. And my brain says to shake the grill basket to toss the shrimp around in there so they don't burn.
So I grab the handle on the grill basket … yep… you guessed it, with no mitt! What the heck … clearly not thinking!!!! I burnt 3 fingers pretty bad. I threw my phone up in the air and screamed. Ran into the kitchen and put under cold water. Omg, they hurt… as I think seriously Kelly… grrr!!!!!!! Brianna to the rescue… comes with a first aid kit… mom, I don't think we have burn cream will this insect cream work the same. I said no it won't as my hand is still in the water. I get a towel cold and head outside to check the dumb food!!! Brianna comes out with the first aid small bottle I kept from you. She says what about this mom it says for burns. I said sure let's try it. So she sprays my fingers until they were dripping with solution. It drys and starts to sting again… I said let's do it again. She sprays me again. I now have big white blisters on my fingers. The pointer one was the worst.
Well…. I am here to tell you…. (which I know you already know!! ) but my blister is gone. It never popped. My fingers never hurt Monday.
You can see on my fingers where it was cuz it shines a little but no pain or anything.
FABULOUS SOLUTION!!!!!!!!!!!!!!!!!!!"
~Kelly W.
"Nixall is a must-have in our house. My husband is in construction and every knick and scratch gets sprayed with Nixall. We also use it to soothe sunburned skin. In the morning, after I wash my face with cleanser, I spray my skin with Nixall and let it dry before applying makeup. It is so refreshing, smells clean, and helps rejuvenate my skin. I always have Nixall with me!"
~Jennifer M.
"I love the First Aid Spray!. I am a klutz in the kitchen and always cutting my fingers. Spray a little bit of Nixall first aid on it for about 2 days and the cut is healed!"
~Darlene K.
"I won a bottle and then ordered the first aid spray as well. I use it on myself and love it!"
~Rhonda H.
"I love Nixall. I have two boys who always get scrapes and Nixall speeds up the healing time on the scratches. It doesn't sting either."
~Jamme W.
"I used it on a bug bite/spider bite. It cleared up the redness and stopped the itching immediately!"
~Ali S.
"The whole family uses Nixall for EVERYTHING! We use it for anything skin-related: burns, scrapes, itchiness, sunburn, face toner, etc.
My boys even use it to wet down their hair when they wake up with bed head. We use it to clean: freshen up old, musty-smelling furniture, cleanse the bathrooms, freshen and clean the mattresses, freshen up our dog – esp after she comes in from the rain! We also use it as a healthy air freshener!!
The list goes on and on… WE LOVE NIXALL! AND we tell everyone we know they need to use it too!"
~Julie H.
"I've used this product on myself, kids, and pets. LOVE IT!"
~Ashley C.
"It worked with my Oak Mite bites. This product really has helped!"
~Pat C.
"We bought this product to calm the itching from oak mites and happily can say it was a godsend."
~Debra H.
"Just an outstanding solution to use on your skin for cuts and scratches. It is my go-to for grandchildren's bites, rashes, and scrapes."
~Cynthia F.

Nixall® First Aid is simple and easy-to-use. Just spray it on!

Because Nixall® First Aid works to manage the skin, frequent and regular applications will help accelerate the process and return your skin back to its normal healthy state. So carry your First Aid for managing all the minor mishaps that occur in the great outdoors!

"I'm using the wound gel on a bad puncture wound in my best friend's shoulder. We are spraying it 3 to 4 times a day and it's made a big difference. Unfortunately, this type of wound takes a long time to heal."

~Joyce H
Additional information
| | |
| --- | --- |
| Weight | N/A |
| Size | 8 ounce Sprayer, 2 ounce Sprayer, Combo Pack (1) 8 ounce + (1) 2 ounce Sprayer |