Sorry, this product cannot be purchased.
Description

FREE SHIPPING ON ALL PRODUCTS

Nixall® is what you choose when your animal is important.

Do you have backyard chickens, a 4-H show you want to win? If your poultry is more than just livestock, then you need Nixall® Poultry Care. The solution to your chicken, duck, or turkey that can't stay out of trouble. Spray on foot injuries, skin issues, and pecking sores. Safe for use around the eyes, ears, and nose. Nixall® Poultry Care will help with skin and feather care.

THE VETRESPONSE® line of products offers to you, the pet lover and livestock owner, the most effective and affordable wound-management product in the world.

Skin lacerations and abrasions
Pecking sores
Foot injuries
Safe around eyes, nose, ears, and mouth
Helps accelerate the healing process
18-month shelf life


"6 days… Dec. 13th to Dec. 19th. Used a little medication to reduce swelling at the very start, but other than that only Nixall. The turkey beat him up pretty good, but he never acted like it bothered him when I was cleaning it, even rinsing his eyes when they were swollen shut. Nixall is amazing! Thank you for your product, I don't know what I'd do without it! Final photo was 1/2 when Colby put her back outside. She said she swore he was smiling. This chicken would have died if not for Colby and Nixall."

~Colby H.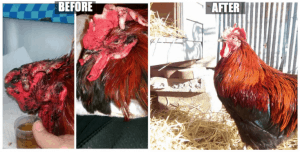 Additional information
| | |
| --- | --- |
| Weight | 371.945743 g |
| Size | 8 ounce sprayer |